Dreaming about a startup online store is easy, but paving the way towards success within the hurdles is the real struggle. Having an online platform to showcase products, brands and services to a wide range of audience is a common idea most of the entrepreneur is working on, which takes the competition into a tough phase. In a market, establishing an eCommerce brand and beating the competitors is only possible, when the owners have the power to use proven marketing strategies.
The entrepreneurship is not an inborn skill. It is an urge to conquer a business idea by putting extreme efforts and energies. The spirit and enthusiasm are further supplemented with an excessive increase in online users and buyers. An increase in consumer friendly shopping experience and the spirit to do more for the end consumer has created a sphere of trust and reliability. The secured payment gateways, money back guarantee and focus on customer satisfaction have transformed the notion of insecurity to a completely secure shopping platform.
A startup is initiated with a brilliant idea, where the founders have thoroughly studied the prevailing trends of a market and dire need of the online users. The statistics in the below infographic shows that people are quite comfortable in spending money buying their favorite items.
As $186 billion revenue is generated online, any online store can grab a share by coming up with products and services no one else to offer.
Purchasing products on auction contributes about 26% to the online shopping industry. The marketers are trying various ways to make a deal attractive and beneficial for the end consumer. To spread the word more effectively, they devise marketing strategies and keep an eye on how it performs.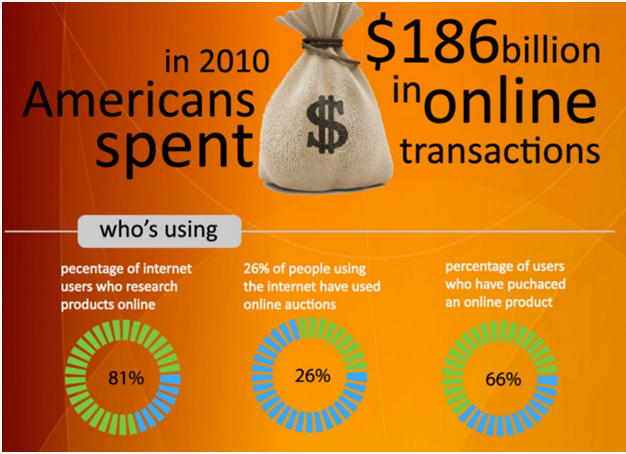 Photo Credit: orangecollarmedia.com
The modern era belongs to innovation and creativity, which seems to be impossible while working in a limited capacity and having a fear of failure. Coining an idea, planning a roadmap, providing resources, investing time and money are some of the major ingredients that boost a startup to boundless success. The cyber world is a hub of creativity and appealing ideas, which gives an unimaginable freedom to an entrepreneur to expand the horizon of a business across the borders.
What Are The Perks Of Setting Products For Auctions?
Common strategies like; give a discount, rebates or cutting down prices to a specific percentage always results in better sales. The customers are attracted towards it and refer their friends as well. With excessive use of these marketing tactics, customers are now searching stores where they can set rates themselves. The online store, which perfectly understands consumer behavior and provides them a platform to bid on a product or service, experiences a sudden boost in revenues. Further benefits are defined as below.
The buyers are willing to purchase more at their own price
Marketers always bring in visitors and try hard to convert them to loyal customers. The conversion rate is a matter of concern and needs to be better for higher results. Selling by auction is quite compelling than the traditional shopping and bears a higher conversion ratio. The buyers, who are visiting the store, are quite willing to purchase at a price that is reasonable while the negotiation is at their discretion.
Sell products at real market value or probably at a higher price
The discounted products are often considered of low quality, whereas bidding on a product enhances competition between buyers. The buyers want to get it at every cost that's why bid a higher price, which ultimately results in better evaluation of the product. There are certain products or an entire category, which brings in more revenue if placed on bidding rather than selling at a defined price. The merchants shall differentiate between highly demanding products, for which the consumers are willing to pay more. Such products can easily be placed on auction for instant sales and revenue generation.
It increases visibility and interest
Most of the online stores seem alike when they don't have to offer products in a way that attracts customers. Bidding interests them as they enjoy imposing a price for the product they like. The buyers are curious to know the winner until the auction expires, that's why they keep on visiting the online store. This results in better visibility and probability to be engaged in other products as well.
Leaving the negotiation to the buyer results in saving time
Buyers are fond of negotiating a price for a product or service. For a seller, communicating the flexibility in price to various buyers is cumbersome. In spite of a predefined price, they insist on a discount. To wave off such hurdles in selling products online, the option to bid a price is quite simple. It eliminates the negotiation, saves time and sells items for a better price.
How eCommerce Help Shape Your Dreams?
The online stores are among the various platforms that have proven that the world has been squeezed to a global village, where buying and selling around the world is like ordering in a small town. This has empowered people across the regions to join the multi-billion dollar industry of online stores and have their share through an innovate idea. Entrepreneurs are adding value to the shopping experience by coming up with the products and services that are rare and scarce in the market.
The developers are burning mid night oil to let you easily grab audience attention through search engine and conversion optimized designs. The worthy mentioning platforms for eCommerce are Magento and PrestaShop, which suits the varying needs of online stores around the world. Most of the eCommerce platforms are designed with limited features and extensions. To ease the end consumer and enhance store functionality, the merchants and business owners like to have additional features in the form of plugins, modules and extension.
How eCommerce extensions enhance the functionality of an online store?
Magento is a prominent eCommerce platform, where the merchants are invited to showcase products and brands free of cost. Today, thousands of online stores are using this platform, as it has a set of themes and free extensions as well. The available plugins have limited functionality to the platform. The small and medium size enterprises without instant expansion plans are quite comfortable with the available options. The need for an extension is felt when they have to put a product line or a category on auction sale.
The easy installation of extensions is helpful in empowering the online stores with additional features. It gives complete freedom to merchants and entrepreneurs to plan marketing strategies without any constraints. The owners are often worried about making changes to the design of an online store, because a minor change can affect the overall functionality, whereas extensions are developed in a way that enhances functionality and user friendliness without burdening the design or coding behind an online store. For entrepreneurs, it's quite amazing to coin ideas and implement them with a few clicks of installation. There is no need to consult the developers and have an expensive quote for setting some of your products on auction.
Selecting a Fully Functional Auction Extension
A marketing strategy may not prove effective for all kinds of products and services. The marketers and advertisers design a strategy after going through case studies and the consumer behavior. A 26% online sale through auction is a clear indication that users are comfortable in placing a bid on through favorite products. The merchants can start with a simple experiment by setting some products on auction and monitor the results. After better feedback, the strategy can extend to the entire store. Before doing all this, the merchants will have to find a fully functional auction extension. FME Auction Magento is worthy to be considered for quick installation, easy configuration and managing transactions through various auctions.
How FME Auction Magento Extension Attracts More Customers?
Merchants, who deal in products that have a potential to earn more than a common man's perception, can easily set it on auction through FME Auction Magento Extension. It allows them to opt for manual or auto bidding. With this extension, the online stores can easily enlist products that are open for bidding. The whole transaction is managed through admin panel, whereas the consumers can manage bidding on various products from their user accounts. For the advanced monitoring and management features, FME Auction Magento Extension is recommended for online stores. A quick overview is given below that will narrow down the choice for an entrepreneur to select an appropriate auction.
Information of Bids
The information includes number of bids, current bid, current bidder, start time and closing time of an auction. Each product page bears this information and nothing is kept hidden. It allows the user to easily know about the ongoing bidding and place a bid accordingly.
Price range
The merchants set a price range for a product and invite customers to place bid in between. Some may bid the lowest, while others may go for a higher bid to get the product. The extension is powered to inform them the price range and notify if they are among the highest bidders. It will also restrict them from bidding an amount that exceeds the defined range.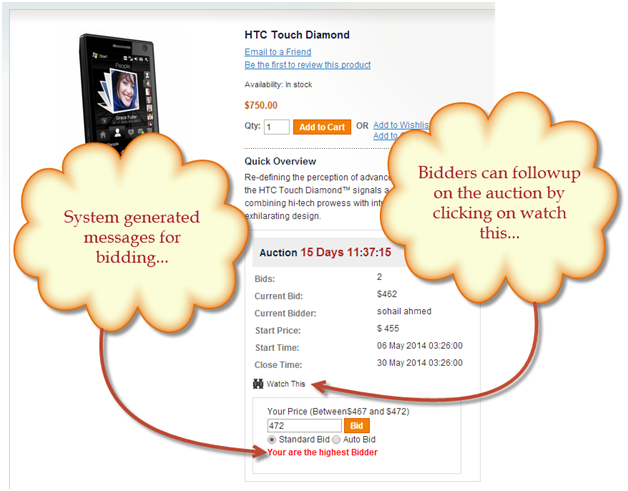 Selection of Auto and manual bidding
FME Magento Auction Extension allows the customers to select either an auto or manual bidding. In auto bidding, a set of rules is defined to carry forwards a bid, whereas manual bidding has to be monitored by themselves.
Checking bid status
The users are given access to check the status of their bid by logging into their accounts. They don't have to ask a concerned person again and again. Furthermore, they can view a complete list of products on auction by visiting the Auctions landing page.
Real Time Notification
The merchants stay relaxed in sending emails and notification, as the extension does it all. On various events, the extension sends notification to bidders, watcher and admin. It can be managed from the configuration menu.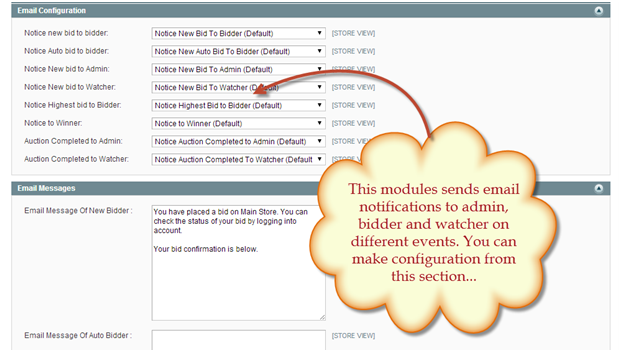 The admin of the store is facilitated with various tools from where the information about the winners and watchers can be viewed. A message for the winner can also be configured for speeding up the process of closing an auction. In short, it is a control panel for the admin as well as a consumer.
Are You Planning A Startup Of Online Store?
Jump into the eCommerce world and come with the most amazing brands, products and services. Initiating a startup may seem to be easy, but turning it into a corporate entity requires hard work, dedication and passion. An online store with the ability to sell at auction is one of the brilliant ideas that are setting new standards in the shopping experience. Magento is a supreme place for showcasing famous and indifferent brands to the general public, where installing user-friendly extensions will surely boost the conversion rate and ultimately the revenue. Entrepreneurs are quite successful in attracting visitors to their online stores, but unable to convert them into customers.