Setting up an online store, adding products and modifying the landing pages takes a lot of effort. It takes months for a merchant to create content for products, segregate them into categories, gather information about customers and maintain a record of orders. A minor flaw can ruin the record requiring you to start from scratch.
Exporting files can help you easily import the same without uploading everything one by one. The situation for you may vary, but importing or exporting with a plugin can save a lot of your time. The WooCommerce Import/Export plugin is developed to help you import or export a variety of information with a few clicks. By following the steps in this tutorial, you can import and/or export piles of record instantly.
Step 1: Download WooCommerce CSV Import plugin
Step 2: Navigate to the plugins section of your WooCommerce control panel and click 'Add New.' Browse the files you have just downloaded and proceed with the installation.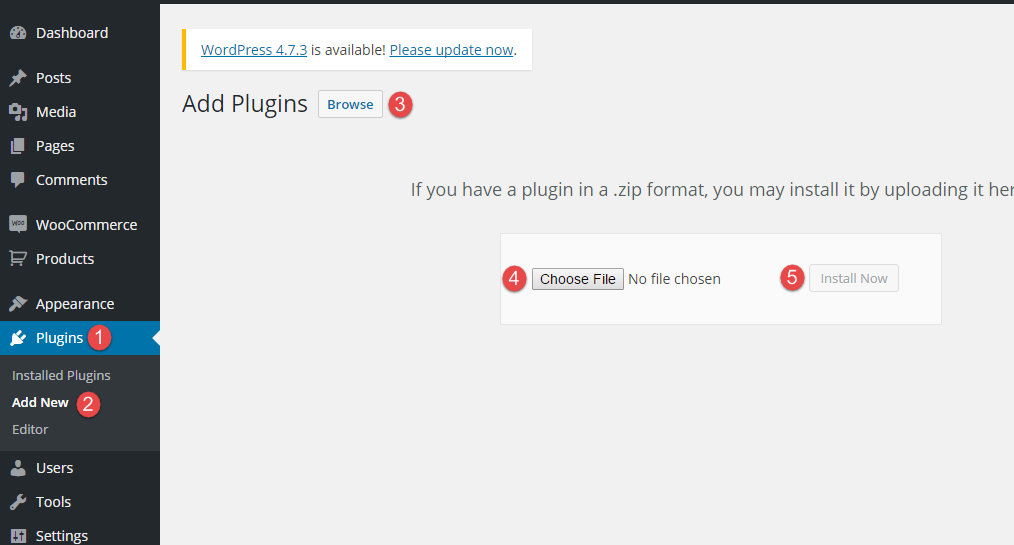 Step 3: Stay in the same section, and click 'Installed Plugins' and you will see the addition of the extension you have just installed. Click 'Active' and the tool will show as a separate tab in the control panel i.e. the column at the right side.

Step 4: Click the newly created tab that is labeled as 'Import/Export.' You will find three further tabs that are for exporting and importing data and setting configuration. Click 'Export,' select the kind of data you want to extract from your stores like categories, products, customers or orders.
You can also add filters to each form of data to extract the data you need. With multiple filters, you can narrow down the choice further and take down the information exactly you require. It allows you to export data from your store to have a backup or use the export files to instantly upload the information to other stores you own or operate.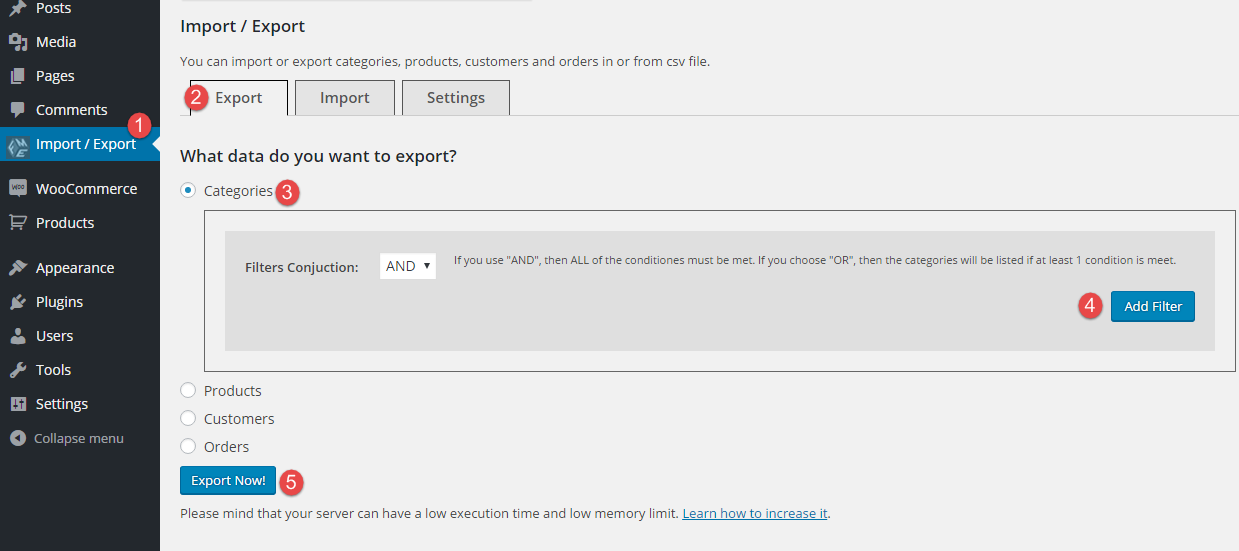 Step 5: Click 'Import' and you will find options for adding a variety of information to your WooCommerce website. Just like the export functionality, the import tab also allows you to extract any information to your website. It can be products and categories, or about customers and orders.
You can also add products and categories as new. It works simply by choosing a CSV file from your records and add a lot of information at a few clicks.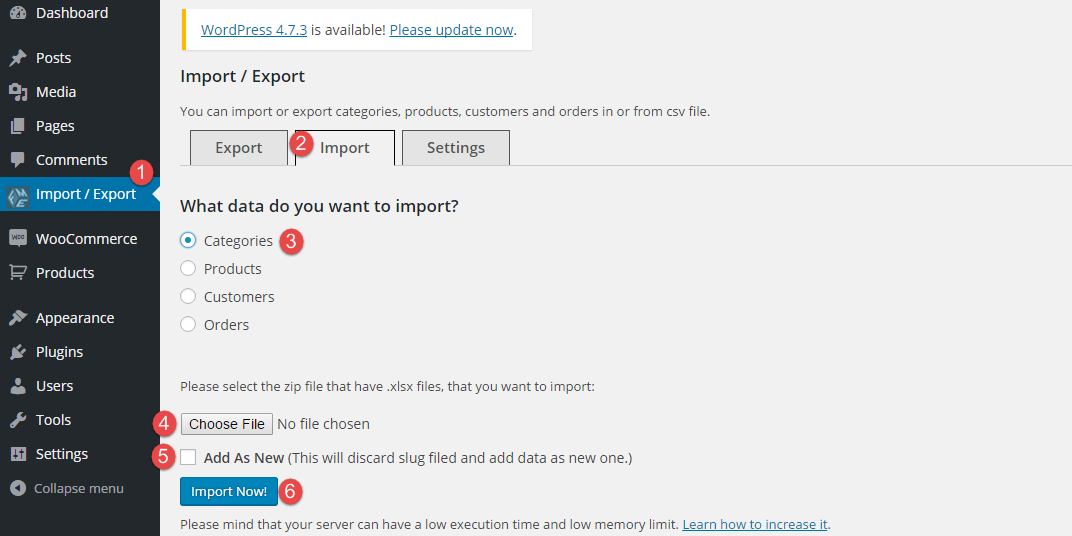 Step 6: Click the settings tab where you can configure the number of entries to import or export.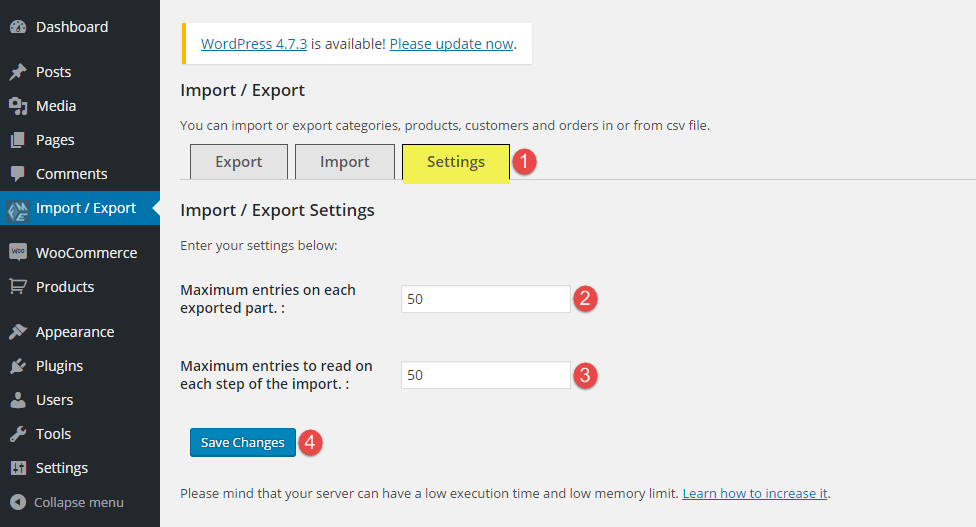 Step 7: In the above few steps, you can easily extract information from your existing website or add new data with a few clicks.
Why do you need to import/export data from your WooCommerce store?
You may need to import or export data for a variety of reasons. An online store accumulates a lot of information about products, categories, customers and orders. Adding an inappropriate file or a hacker's attack can collapse your website, and you may need a backup plan. So, it is better to export the data frequently and import whenever there is a mishap, rather than starting from the scratch. Following are some of the core reasons you may need WooCommerce Import/Export plugin,
To have backup of all your products, categories, customers and orders
Importing information to merge products from the multiple websites you operate
To equally transfer data between eCommerce channels
Conclusion
The WooCommerce Import/Export plugin is developed to help you swiftly extract information to and from your website. This tool allows you add selected information to your website with the help of filters. With the help of above step-by-step tutorial, you can import or export data without acquiring expertise in coding or configuration settings.