The Rich snippet is the addition of structured data to a website that helps the search engines to understand the different form of information about a web page. The users find it quite helpful to have a glance about product and service pages before visiting them.
Adding more information to the rich snippet is helping the search engines to know more about your product pages. You can add relevant information which is displayed on the results when a user searches for a product you deal. The users can decide either to click or not to click a URL on the basis of the information it carries.
In Magento, to add a rich snippet to your website, you either have to edit the code or install a plugin. By adding a custom code, you can add structured data like displaying a product feature or attribute. But, for modifying it, you will have to hire developers again and again. Whereas, by installing an extension like Magento Rich Snippets, you are free to carry on unlimited changes. Following is a quick step by step guide to adding and configuring rich snippets into your website with a few clicks.
Step 1: Download and install Rich Snippets Magento extension
Step 2: The installation will add another tab under the Extensions tab in the control panel of your online store. Navigate to the 'Magento Extensions' tab and click 'Rich Snippets.' It will give you access to the configuration settings.
Step 3: Click 'Yes' from the drop-down menu against the 'Module Enable' option to add the rich snippet extension to your eCommerce website.

Step 4: After the general configuration, move below and start customizing the content to display in the rich snippet. You can start by allowing the extension to display product name, SKU code, bread crumbs, and URL of the product page. Click 'Save Config' to implement the changes as you proceed.
Step 5: Scroll down and set further preferences. This extension enables you to display product images, description, price, currency, and stock status in search results. The users can get a clear idea about your product in SERPs before they finally visit your store. It improves the click through rate, which may lead to more conversions.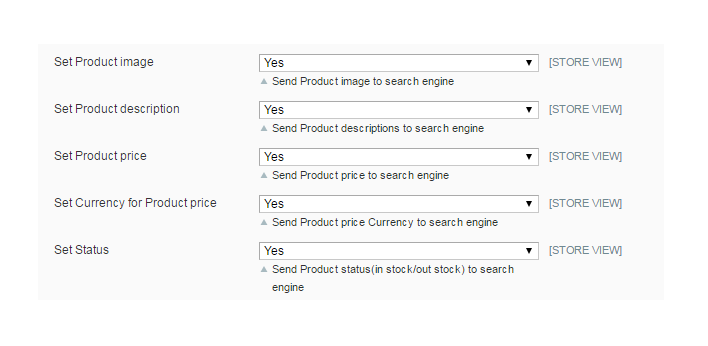 Step 6: Utilize further options to add more useful information to the rich snippet. You can display a product brand, color, weight and their attributes. Showing reviews is also a worth mentioning option.
Step 7: When you are done with the entire configuration, click 'Save Config' and it's done. In the result of your preferred addition, the rich snippet will display as below.

Try adding information that is relevant to your products and enticing for your concerned audience. Display more than necessary information can be harmful to your website. So, add the information wisely.
Conclusion
With the Magento Rich Snippet extension, you can alter these fields whenever you want. It gives you the freedom to modify the information you are eager to show in the search engine results. Providing relevant and concise information about your products in the searches is an effective method to increase the click through rate of your website. It simply means increasing traffic and conversions of your online business.