An eCommerce website displays a bundle of products, and to earn revenue, every single product needs to show up in search engines. It is done by optimizing a product page with numerous keywords so that a user finds it with every possible query similar to the product name.
Suppose, if an online women jeans shop display 50 products and every product have keyword variation of 4-5. The marketer may need to rank it against 200-250 search queries that is surely a hectic job. The common problem in managing an eCommerce platform is reaching and stabilizing top positions in Google. Most of the marketers are quite successful in ranking to the top, but fail to stay for long due to the strenuous competition or frequent Google Updates.
We have been in contact with the top SEO experts to collect their valuable thoughts, tips, and practical knowledge as how they retain rankings of eCommerce website despite the competitive environment and frequent Google updates. Read through their professional advises that may surely help you in stabilizing your website placement in search results.
The one question we asked the SEO experts that concludes your problem is
"Looking at the current frequency of Google Updates, What Advice You would like to give to eCommerce sites to sustain their rankings?"
Here is how the SEO experts shared their experiences against the query.

Usually Google updates go after sites that are doing things wrong. Just because they've gotten away with doing things wrong this long doesn't mean they're off the hook forever. Google likes clean URLs, unique descriptions, single paths to content (i.e. filters are find if they are out of the index and you only use the ones that have search), use canonical properly, have breadcrumbs, use schema properly, etc. Lots of ecomm sites have error codes from products changing or going out of stock and you need a good plan for those.
When traffic stops, double down on conversion optimization to make sure you're getting the sales you'd be getting when you had your other traffic.

Refrain from creating thin pages with too much links – Google hates thin content with excessive links and they mean it. In fact, Ebay got some painful Panda beating in the past, losing 80% of their organic traffic for having such.This is one of the most common mistakes that ecommerce sites are continuously doing, even in 2017!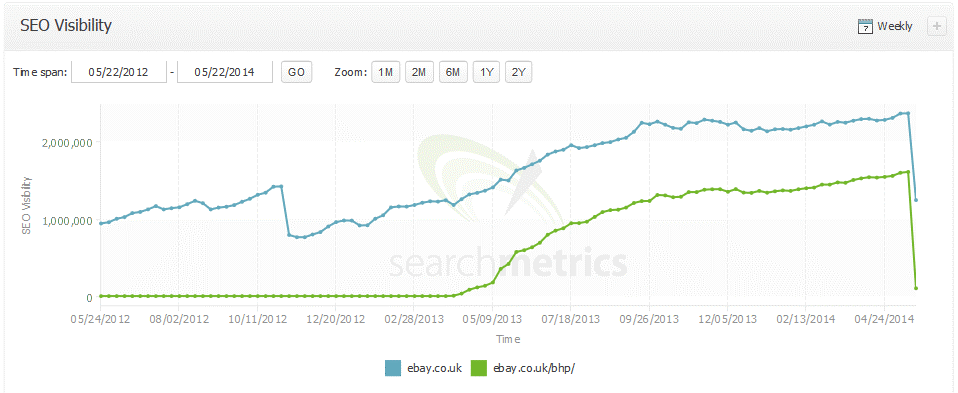 Image source:
Monitor duplicate pages – with the constant algorithm updates of Google, you will be obliged to familiarize how pagination and taxonomies works. Always be careful when creating "category" and "tag" taxonomies. You might not know it but you may fall to the trap of creating duplicate pages by adding unnecessary multiple tags on each product you have listed. For checking of duplicate pages, I personally use SEMrush's website audit feature, Screaming Frog for checking my site's entire pages and Google Search Console to determine how Google reads the pages of my website.
Capitalize on rich snippets – although schema markup is not ranking factor, it is essential to integrate it in your ecommerce website as it can increase your site's CTR (click through rate) by 30%. You see these star ratings can actually influence Google searchers to click more on your site than your competitors' in the organic search results.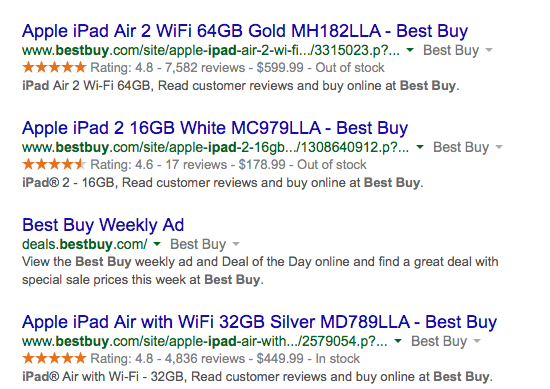 image source:
Familiarize product properties in Schema and learn how to use it in your ecommerce website. Use Google's Structured Data Testing Tool to check whether the codes you have placed on your product pages are correctly implemented. Don't worry, it's absolutely FREE!
Optimize your crawl budget – this is something you need to consider looking at especially if your eCommerce site is already a large website. Although crawling is not a ranking signal, you will want to sustain rankings of your eCommerce site's top pages. Therefore, you need to show Google which pages of your site they should prioritize indexing and no index pages which you think that doesn't give much value to your visitors/users.

Apart from all the other factors like, properly optimized pages, informational content, clean and clear website architecture, schema markups play a crucial role. There are couple of scheme codes that can help a website gain higher visibility, like:
a. Product Schema - Add markup to your product pages so Google can provide detailed product information in rich Search results — including Image Search. Users can see price, availability, and review ratings right on Search results. There are two types of pages where you would typically use this markup:
• a product page that describes a single product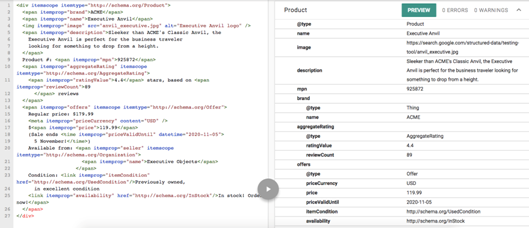 • a shopping aggregator page that lists a single product, along with information about different sellers offering that product



b. Review Schema - When Google finds valid reviews or ratings markup, it may show a rich snippet that includes stars and other summary info from reviews or ratings. In addition to the text of the review, a rating is an evaluation described on a numeric scale (such as 1 to 5). You can supply ratings for products:



These are just examples which could be added on a website to increase its visibility.

The thing with Google updates is that they've always chugged on quietly in the background, so sustaining rankings shouldn't be a problem if your site is properly optimized to begin with. For ecommerce sites like yours, make sure to place a premium on user experience - a lot of studies have shown that slow or unpolished sites tend to drive visitors away in a matter of seconds. That's a lot of lost potential.
Hence, focus on your site speed (we use Max CDN) for both mobile and desktop as well as mobile friendliness (w/ AMP). Incidentally, those two are also both very important ranking signals for Google, so it should help a lot. Don't forget the other little things such as content quality too."

• All the basics are fully optimised such as title tags, h1's and content onsite is keyword targeted.
• Make sure there is plenty of content onsite, again optimised and re-freshed regularly.
• Having an onsite news/blog platform allowing for thought leadership content which Google ranks highly.
• Page speed has to be as quick as possible as we know it's very important for Google and users that page speed is quick.
• Utilise AMP as Google ranks this highly.
• Make sure site is fully mobile optimised as searchers use mobile, especially for ecommerce.
• UX – make sure users can navigate through the site seamlessly and quickly with the checkout being as easy as possible to reach – high bounce rates and low time on site results in lower rankings.

I'd say the primary reason for Google's frequent algorithm updates is to deliver well written, relevant content to it's customers. That's it.
So what can an ecommerce website owners do to improve their on-page SEO efforts?
• Write longer detailed product descriptions that include keywords near the beginning.
• Write unique products descriptions - don't copy from other sites as this content has already been indexed.
• Write for people first & search engines second. Make it interesting to read and succinct.
• Ensure when writing you use the primary keyword phrase and supporting keyword phrases.
• Ensure your metadata descriptions include the primary keyword phrase near the beginning and no more than 160 characters.

I am also a co-owner of a local online shopping site, Unlideals.com. The struggle of getting rankings for competitive keywords is not new to me. Through a series of experiments, we were able to achieve decent rankings for my keywords. Here are some suggestions I have for other eCommerce sites.
First thing first, you should go over the basic. Be sure to post reliable information about your product and make sure your website loads smoothly and quickly. Make sure that you have an easy to navigate and responsive website on all platforms.
With thousands of products on your website, I also suggest that you apply rich snippets. Also, try adding hierarchical internal links. Moreover, a consistent monitoring would also help you track outdated pages. 404s could affect your ranking. Redirect them to relevant pages.
Lastly, don't be afraid to do experiments. Try A/B Testing or a simple consumer survey. Always bear in mind that Google serves real people and we should do the same.

Don't pay attention to Google updates because they don't matter. Google doesn't buy products from you, people do. Don't do anything nefarious, but keep quality in mind. For ecommerce sites, invest in top-notch content like guides, reviews, and unique products descriptions (never use the manufacturers' canned descriptions!). Build those links to your category pages and you'll be good to go.

If you want to sustain rankings (and grow them!) I suggest a few things:
a. Stay clear of Penguin penalties by only building natural, high quality links. Avoid using too much exact mach anchor text. Follow a well rounded SEO strategy.
b. Improve your traffic by adding blog content that answers questions about your products. I see too many e-commerce stores only capturing a fraction of the traffic they could by not having a blog!

My advice with respect to SEO for any site is to put most of your effort into creating a genuinely useful website. A great blog, useful videos, useful widgets all contribute towards making your website stand out on a sea of mediocrity. Ultimately, if you're only competing on price someone else will always be willing to sacrifice their profit or even take a loss to secure a sale.
If you concentrate your efforts on things that are hard to copy you might reap the rewards. Most site owners don't want to hear this, those that do build an economic moat around their businesses

To maintain a website rankings, there are repetitive tasks need to be done from high to low priority level such as:
Monitor outdated product page/s - Most ecommerce websites offer sales, discounted, giveaway promo to their online buyers. Since these are time-sensitive content, it should be addressed properly once the promo has expired. Otherwise, this could give negative user experience which can increase your bounce rate and may reflect your website rankings.
Monitor 404 pages - Ecommerce websites gets a lot of 404 pages for some valid reasons and can result to negative result in search rankings. Unfortunately, 404 pages gets indexed and remain until you instruct bots on what to do. You need to set 301 redirect from these URLs to most relevant URLs OR instruct bots to remove your 404 URLs from their database index to avoid users getting 404 pages when they visit your site from search channel.
Monitor link profile (inbound, outbound) - Links affect website rankings a lot. What get in and get out of your site is closely monitored by search engines and can have either positive or negative impact in the long run. You need to monitor your links by using third party tools such as Ahrefs to see any suspicious inbound or outbound links.
Monitor HTML improvements - Most common issues with Ecommerce website is duplicate tags which are displayed in Search Console, you need to address these issues as the bots see them all individual pages even if we don't. Bots don't read webpages the way we do because they were programmed to read programming languages.
There's a lot of common approach to maintain search rankings but definitely, this will be addressed by other contributors

The way majority of product pages are developed, they are mostly dead pages where not much content updates are happening and thus overall the Ecommerce website sees lot of dead pages floating around. So, if the merchants, have Q & A sections, a post review section for each of the product page, it will help gather consumer generated contents and which in turn help keep the product page fresh with content updates by the customers.
So, even if 10% of products are receiving Questions asked by customers and 5% of the products receiving reviews, overall the website remains healthy and this is exactly what Google wants. A health and fresh contents laden website instead of dead site where new contents are added by way of new products.
You would say, why not just have a blog? Well, blog will only be most of the time one-way content publishing as people coming to your site for purchase are more interested in knowing more about the product they want to buy rather than read through the blog post. Besides, merchants want customers to land directly on the product page to convert and not on their blog. Only prospect customers who are at the early stage of buying cycle (researching/identifying) will care to read blog posts

In some ways when Google catches your site in one of its now too frequent quality updates they are doing you a favor. I have cleaned up a number of Panda and Penguin victims and in every case by no means was it arbitrary. The sites earned their penalties and their users paid for it as well… they just didn't bother to complain they went somewhere else and bought!
Panda affected sites generally have issues with content above the fold (bigasse sliders look cool but Google and users hate them), thin content (3 products with product name, image and a link to products is thin content! Google could care less what your needs are!) and poorly thought out templates that confuse users are just a few of the holes site owners dig for themselves. Panda has a number of pieces to it and in fact is almost like a number of smaller quality updates rolled into one.
Penguin affected sites earned it by choosing a short term solution to a long term problem. I have always believed when you beg for links ie: commonly known as link building you are playing with fire! It is not smart to base your ranking strategies around activity that is outside of your direct control. BTW, having been on the web over 20 years I can say with certainty deep linking was the direct result of sites manipulating engines. I have seen some really bad link profiles that have no issues because most/or all of the links are to the home page. Deep links are generally the result of search engine manipulation unless they are links to specific info. Therefore it is not normal for interior pages to attract massive amounts of links. Build links to the home page let the deep links come naturally and you're risk factor is cut drastically.

My advice is to stay ahead of the curve. Google usually makes a big fuss about major algorithm changes well in advance of implementing them. The 3 big areas they are focused on right now are content quality, manipulative backlinks and mobile user experience.
If you receive a large drop in traffic after a major Google update it is very likely due to one of these things. A lot of people are about to be unnecessarily blindsided by Google's Mobile First Index.
Test your mobile speed scores and fix them now and it won't be an issue.

For ecommerce clients in this situation, I recommend developing a more sustainable organic strategy rather than focusing on reclaiming that single keyword ranking. First, I'd recommend developing a broader "keyword footprint" with deeper product categories, use case pages, educational resources, and better product content.
Second, I'd recommend taking a hard look at their entire customer journey to purchase. Even if that single keyword drives the most direct sales, that does not have to be the first or final opportunity to get the sale. I'd recommend targeting a set of related keywords with educational content and complemented with a robust retargeting campaign that includes RLSA bidding.
Ironically, this more sustainable approach to organic search with content, paid, PR and social promotion will lead to organic links that can help reclaim better rankings for that single, important keyword.

This is a very timely question, as I'm currently in the middle of building out a new ecommerce website. Our approach on that site is multi-pronged:
a. Build the store sections with an SEO friendly structure – this means ensuring that the hierarchy is clear and sensible, the user experience is top notch, and the product detail pages are focused on very specific products and product attributes. The overall hierarchy targets "big fish" keywords higher up (home page, category pages), and long-tail keywords on all of the lower level and detail pages. This is the key to ranking for semantic match searches that you never fathomed in the first place.
b. Build Cornerstone Content pages to drive SEO ranking on broad topics – in addition to the store pages themselves, we are building static content that targets very specific keywords and topics in each of the product types we intend to sell on the site. This way, we can create linkable assets to build links to on these cornerstone pages to drive enhanced domain authority. This pages will in turn link to category and product detail pages internally, to help spread the domain and page authorities earned on the cornerstone pages across the shopping pages as well.
c. Embrace content marketing – whether it be via a blog, videolog / video series, research and data section, infographics, or another very linkable content asset type, never consider the content marketing piece "finished." You are not the only competing shop in your niche, so you need to keep the site alive and evolving to stay relevant in perpetuity.
Of course, there are many other ways to help stay relevant from an organic perspective, but these three key strategies are more easily pursued than some of the more advanced strategies. If you follow these tips and avoid doing anything automated, you should see solid SEO performance heading into 2018.

I wouldn't worry about the frequency of Google updates too much. Yes, Google delivers minor updates daily and major updates every few months or so. But if we take at a more macro view of Google's algorithm, it's about providing the best possible user experience for any given keyword. Both Hummingbird (Google's overall algorithm) and RankBrain (Google's third ranking factor and an artificial learning sub-algorithm) have moved more towards understanding the underlying intent of a keyword.
For eCommerce, lets imagine you are an antiques seller. "Edwardian wardrobes" and "Edwardian pine wardrobes" are both similar meaning keywords but the intent of the user is subtly different. If you stock more than one Victorian pine wardrobes, it may make sense to create a page just for it as this provides a quicker and better user experience from Google for your potential customers. This is one example of providing a better user experience and you'd still need to be selective in what pages were added.

The biggest thing eCommerce websites need to fear is an on-page penalty, which would be caused by either too many duplicate listings, or another panda-related penalty.
The best, and easiest way to prevent this happening in future is to make each listing as unique as possible (some repetition is natural and to be expected) and to build out an in-depth site. Adding lots of useful content and articles, which are a good part of seo anyway, will also help the site avoid any thin content issues.
When it comes to off-page SEO, mostly concerned with link building, the same rules apply to every site. Avoid grey or black hat SEO techniques, and focus on natural link building and outreach methods.

My advice would be to add social media into the mix - find a way to engage with potential customers by adding buttons to either share your content on social media platforms, or to ask your site visitors to follow and friend you. Google also loves consistently posted content, especially on a platform like WordPress that is very SEO friendly.

After Google's changes in recent years, the best way for any site to maintain stable rankings is to create valuable and highly sharable content.
Contrary to popular belief, SEO is actually pretty straightforward. Yes, some technical website elements do play a small part in SEO, but Google priorities 2 things above anything else: content and authority. Google's priority is to deliver the best search results for any given query - it cares about nothing else.
With that in mind, eCommerce sites, particular those with multiple product lines, should strive to create industry-related content that's relevant to their desired audience.

There are a lot of ways to sustain rankings of eCommerce sites, but here are a few tested techniques that are related to link acquisition:
• Reclaim lost links or links pointing to 404 pages - these are unfortunate link opportunities you can still acquire by simply doing outreach to your past linkers. Lost links can negatively impact your site's rankings if they haven't been reclaimed or you haven't added a new set of links to compliment them.
• Develop a consistent link building plan to your highly linkable existing content assets and future informational pages - it's important to continuously build high-quality links to your site to dominate your targeted keywords in search results. Otherwise, your content or direct competitors can get ahead over on your rankings.

Sustainable strategy is the only game in town for any business with plans to invest and scale. Anything other than watertight, audience-focused marketing can put an entire business in jeopardy.
The answer in avoiding such issue is to ALWAYS stay focused on your audience. Forget platforms or tactics to begin with and instead paint a gloriously intricate picture of the different shorts or personas that make up your key customers, as well as those you want.
Once you have that you can connect the dots, use tools like Hitwise, Comscore, Global Web Index and others to find out where those people are.
With that information you can then begin designing your marketing strategy, focusing resource on the right platforms and then building an audience-focused content strategy to help that customer through their purchase journey, entertain and engage them.
Do that and you'll engender loyalty and purchase long term.

My advice would be to focus on real marketing campaigns that build links and authority - if that's strong then you wouldn't have to worry about losing rankings every time there is some kind of update!

Given the frequency of Google updates, my advice to eCommerce sites to sustain their rankings is... don't do that. As an eCommerce site, your focus should be on revenue from the organic channel, not rankings. Rankings were never and will never be a KPI, it's a diagnostic metric at best and at worst a red herring. Instead, focus on becoming a better marketer first - writing better copy that speaks to your audience in the language they use to search for your products, getting coverage for your products from other relevant websites like a good public relations person should, and keeping your site free from errors that would hold you back. You get these things done, then the rest will take care of itself.

My advice to sustain rankings is to optimize for customers first, search engines second.
Get inside your customers' heads. What are they searching for? What questions do they have that need answering? Then provide the best content on the web to provide that information for them. You can (and probably should) do some link building as well, but great content attracts backlinks organically. So start there.

The biggest trend i'm seeing is putting the user first, thus have a big focus on your UX and other on page things like Speed and mobile friendliness. Tools to use are Google's page speed tool, the mobile friendly testing tool and I'm a big fan of gtmetrix.com.
Oh and move to SSL and HTTP/2 for trust and speed reasons.
Fix your on page search and navigation based on you Google Analytics data, no more dead ends.
This will get you a long way, and will help boosting your revenue along the way.

I have been involved in search engine optimization and online advertising for nearly 20 years now (for my sins). Over that time we have seen the impact of changes to the algorithm to businesses of all shapes and sizes. From the initial Florida update in 2003 through to the more aggressive Penguin and Panda updates starting in 2012. Throughout this time we see the same thing over and over again and businesses making the same mistakes with their thinking towards organic search.
My advice here is simple - don't chase the algorithm. Don't focus on what those little tricks or short-sighted strategies that get short-term results. Focus on what Google is trying to do which is return the best possible result for any given question. Be the best result. Be unique. Don't focus on dirty tricks. Do good marketing with an intelligent sprinkling of SEO. Focus on being the very best answer and bringing something unique to the table. Give Google a reason to rank your site. Give users something they can't get anywhere else.
Do great marketing and let the world know about it. Do your marketing with a knowledge of how search engines work but make sure everything you do you would be happy to explain to someone from Google. In particular when it comes to building links and content make sure you only do work you would be happy to show your mother (if she worked at Google in the search quality assurance department).
I do know that this kind of high-level strategic advice is not always very actionable but great SEO is built upon great marketing. Your business and every business is a unique snowflake that needs an approach that takes that into consideration. We recently published a series of SEO tips that will help you improve and maintain rankings on eCommerce or any business site.

Google is always doing updates which in most cases are targeting those who are using practices that they maybe shouldn't be doing. Many of these updates target spammy duplicate content, spammy links and so on and if you avoid using those tactics then you are halfway there.
But it is important to keep up to date with technology and updates like having SSL certificates on e-commerce websites and those types of changes, with browsers like Google Chrome showing non-secure websites to customers.
You also want to have the most up to date technology on your website, and making sure it is mobile friendly, and has a good user experience and even add functions like abandoned cart functions where you can market people who have abandoned your cart and look for new ways to increase your conversions.
But if you keep to the basics such as keeping the website updated, mobile-friendly, simple and easy to navigate for your users, adding new products and targeting more keywords and continue to get good quality links you won't go far wrong with your rankings.
Also, make sure you are doing regular site checks/audits to ensure your site is in good health and keep a close eye on your competition and monitor what they are doing.
Content and links are the most important factors for any SEO campaign, so make sure you keep on top of those areas.

I would strongly advise any eCommerce site to focus on 3 areas right now.
a) Mobile site & usability
Google first is coming soon and if a site owner isn't aware of how this could impact them, they might wake up one morning and find their traffic has been decimated. Mobile First turns Google's ranking algorithm on its head by taking a large number of mobile elements and using these to help rank the desktop site as well.
Any site owner should try to keep their site loading speed at under 3 seconds if they can as well - this is considered a top-end speed so any work to improves times can help.
b) Usability experience
Many site owners have been happy to accept a certain drop-off of traffic, but generally don't bother trying to do anything about this.
There are now tools that can be used, such as Hotjar and Inspectlet, that will allow you to add a bit of code on your site and then record users using your site. From this you can get a first-hand view of stumbling blocks and work to rectify them, knowing that these are an issue.
c) Content
Google is still content hungry, but only if it fits with the page.
Sometimes it might be that Google would expect to see a 2,000 word article, but if you were to add that document to a product page, you would probably kill the usability. Carefully gauge what you need and use competitors who are winning, as an example of what Google prefers.

Based on my experience, the best reason I'd give to eCommerce sites is
to focus on the users. Each Google Update brings something new, and we
all have to keep up with these changes and adapt, but what they all have
in common is one goal – provide better user experience. Google is
focused on the users, and it's awarding the sites that do the same. In
terms of eCommerce sites, what can help is providing clear navigation,
lots of content that provides useful information, simple checkout
process, etc. As long as your website is user-friendly, Google is going
to see this as a huge plus for your site, and this will help you
maintain the rankings, alongside other SEO activities that help with
ranking.

Whenever I hear about Google algorithm updates and strategies for 'surviving' them, my best advice would be to use white hat tactics in the first place and then you shouldn't have to worry about Google changing its algorithm.
Google's search engine has become very sophisticated and that has happened (in part) as a response to combat web spam. The good news for people who have not been using questionable tactics is that their sites enjoy better and more stable rankings in search.
eCommerce businesses should invest their time in optimizing their sites using strategies that promote a good user experience. They should avoid overtly trying to manipulate search results for the sole purpose of getting a first page ranking. A good resource to investigate what is appropriate and what is not are Google's quality guidelines. Site owners can learn about what Google considers acceptable as it relates to SEO.
Of course it's still a good idea to stay up to date on Google's major changes. That can help you adjust your strategy if need be. However, trying to 'trick' Google is never a good idea and almost always ends in disaster.

No sales pitches and promotional material will help you sustain or improve the rankings in search engines. It's all about the real content instead. Quality content that focuses on the people in your target audience. Great content that they want to consume and share with their friends. Content that is entertaining, content that is useful, educational, informative. Content that is better, easier to understand, simpler, funnier, better explained, better presented, more advanced, more extensive than any content that's currently out there on the top of Google's search results. You should aim to publish this type of content only in order to rank or to sustain your ranking.

The issue with most eCommerce sites is that they are usually a little thin when it comes to product descriptions. Usually you'll see a few sentences which more times than not are just copied and pasted from the manufacturer's site. But, assuming you did your site right and wrote your own descriptions that tell the user everything they could ever want to know about the product - there is an important SEO component you'll need to focus on links. At the end of the day, links are what have the most weight when moving the rankings of a page/site.
I know what you are thinking..."No one links to a product page". For the most part, you are correct. But there are sites that do and because eCommerce is tough, many sites close down and move on. So these links become "broken" on the site they live on which gives you a great opportunity to jump in and let the site owner know about it while subtlety suggesting your link as a replacement.
I'm not going to lie, it's not an easy process. But if you stick to it, you'll be able to generate some decent links to your product pages that will help give them a little boost in rankings.

Look at the runaway smashing success of Dr. Axe and his eCommerce store and you'll quickly realize that he's bullet proof when it comes to updates. Why? Unbelievably killer quality blog posts. No. Look at them. They're 2,000-4,000 words and have at least two unique graphics and usually an infographic as well that cite valid scientific studies. Another thing to note, is because of industry restrictions, they can't directly link any product or claim to their eCommerce products directly! They realized they would need to up the value of their brand through excellent content and build such a brand that their products would get purchased even though the only links are through the main navigation!

The vast majority of store owners should not be seeing significant changes during Google updates unless they are using risky short-term tactics. Google's algorithm now updates multiple times a day so it's not abnormal to see sight fluctuations throughout the day. Drastic decreases are typically a sign of a bigger problem. Focus on long-term SEO strategies like carefully matching keyword intent, providing a great user experience, and attracting links from reputable sources to minimize the likelihood of a future drop in rankings. Low-quality content and links can work in the short-term but will always put you at risk over the long term as Google's algorithm gets more sophisticated.
Maintaining or increasing your ecommerce website rankings during Google's algorithm updates requires keeping your website's technology up to date, following the latest standards and implementing new trends and best practices. Start by using a hosted ecommerce platform like Shopify or 3dcart, instead of a licensed or open source solution, in this way your website will be receiving frequent updates automatically. Dedicate resources to content building, usually is difficult to add content to a product page without affecting conversions, so concentrate in developing category pages, articles and product guides. Use a long-form content that includes product recommendations and links to the product pages, in this way the content can be updated to include new products or remove discontinued ones without affecting the ranking of your website.
Conclusion
Trying on things, facing a failure, and then reinstating to start over again is a long process. The professional advises from these SEO experts is the result of their journey from failure to success. Cut off trying and testing strategies by exploring how these experts have struggled to retain search engine rankings of eCommerce websites. Read through their individual thoughts and opinion, and implement the one that best matches your business requirement, and you will success in sustaining web.